The UAE Golden Visa is becoming the most popular residency by investment program
Published at: 29/08/2022 12:35 pm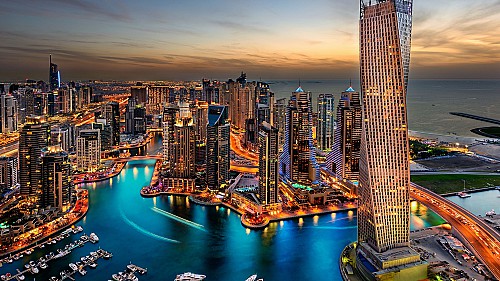 The United Arab Emirates offers affordable and low-tax residency solutions. Note that the UAE's residency became an attractive and valuable tool during the economic and political turmoils in 2022.
There are several options for becoming a resident in the Gulf country. Most applicants choose companies' registration, as this alternative is the most affordable. Moreover, the registered company allows the residents to start or continue their business activities in the no-tax environment of the Emirates.
Advantages of the UAE residency through company registration
The UAE accepts applications from all over the world (Russia and Ukraine included)

Family members (spouses and underage children) can receive the resident status together with the primary applicant.

Residents of the Emirates may conduct business anywhere and are not obliged to stay in the country.

The United Arab Emirates has become a leading global financial and business hub. Residents can freely invest in or purchase properties in the country.
How has the UAE become a residency hub for international entrepreneurs?
The country includes seven Emirates (Abu Dhabi, Dubai, Sharjah, Ajman, Umm Al Quwain, Ras Al Khaimah and Fujairah) and almost all of these offer tax advantages and residency solutions. During the last decades, the country has become the most modern state in the region, instead of the previous traditional Arabic point of view regarding society and foreigners' rights. For example, Dubai is not only a place to enjoy tax advantages but also an attractive place to live and conduct business.
Moreover, the UAE offers the most modern and flexible financial institutes and a well-known centre for those businesspeople who wish to expand their activities globally. It's not a coincidence that entrepreneurs from India, Pakistan, Sri Lanka, and Bangladesh are also moving their global or regional headquarters to the Emirates.
How can be the UAE residency affordable?
Suppose you compare the cost of the usual residency by investment programs to the Emirates' options. In that case, you will see that the average residency by investment program costs at least ten times more than becoming a UAE resident through company forming. Naturally, if you wish to invest in real estate to become a resident, the costs will reach the comparable prices of the other competitors on the market. There are three types of companies you can register in exchange for becoming a resident in The Emirates, and the most expensive options are only €22,450.
Discus Holdings Ltd's local experts in our representative office in Dubai are waiting for your questions. Contact us here for the details!
---