How to get UAE residency?
Published at: 06/01/2020 11:52 am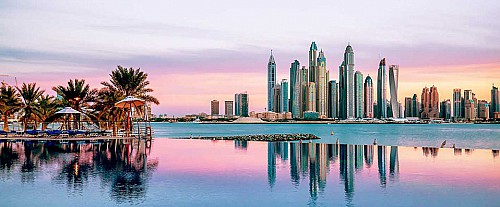 The United Arab Emirates attracts thousands of applicants per year with its tax-exempt business environment. You can become a resident of the Emirates through business incorporation.
The most straightforward way to become a resident of the United Arab Emirates is to form a company in the UAE and obtain a license.
Advantages of the UAE residency
- There are no income or corporate tax in the Emirates.
- The residency can be extended to the family members (spouse and underage children)
- You don't have to reside permanently in the country or conduct business there. 
- Residents of the Emirates can open bank accounts and purchase real estate.
You can become a resident of the United Arab Emirates if the company is registered under your name and have a local business license. There are three categories of business licenses in the Emirates:
1. General trading
2. Services
3. Commercial
The most straightforward company option to become an Emirati resident is the "General trading". This category allows up to three company shareholders to settle. 
How to apply for the UAE residency through company forming?
First of all, contact our local colleagues for a detailed consultation here. Our experts will prepare for you the necessary documents and registration forms. After you signed the forms and sent us, we can submit those and register the company.
The registration process is fast; it takes only three days. The next step is to apply for the immigration card and visa. The issuance of the card and the entry visa may take maximum 15-20 days. Upon arrival in the Emirates, the resident receives the permit inserted in the passport, and the last step is to submit the documents and obtain the Emirates ID.
Conditions of obtaining and maintaining the UAE residence permit
- During your first visit, you will have to stay at least five working days in the UAE. 
- To maintain the resident status, you must visit the Emirates at least once every six months (180 days).
- The first residence permit is valid for three years.
- The company must be renewed every year to be able to retain your UAE resident status. 
Discus Holdings' office in Dubai is waiting for you, and our local experts are ready to answer all of your questions! Contact us here or check the detailed costs and fees here.
---